Welcome to my site. I custom design and machine unique parts for Harley's and Sportbikes, as well as, cars, boats, etc. I also do work in the Automotive Tooling industry doing CNC Programming/Machining & CMM Inspection and build Checking Fixtures and Gages here in the Detroit Area. When things slow down in this industry, I shift my talents and make custom parts for people.
The derby cover to the right is a standard derby cover for most 80inch V-twins 1970'ish to 1998. I also make the 5 hole pattern for 1999 and newer bikes. I have made them for a couple of the local M/C Clubs here in the Detroit area and machined their colors right into them.

When making most parts, I start out by reverse engineering the basic mounting holes and form, then I go to work in the computer to create a complete 3d model of the part. I then machine it from solid 6061 billet Aluminum.

I can also reverse engineer many hard to find or obsolete parts. Perhaps you have a cracked part for something that's no longer made, I might be able to recreate it better than new. Or I could simply Digitize it and restyle it to your liking.
If you have an idea for something, send me a sketch or print and I'll let you know what I can do. "If you can dream it, I can machine it."

DETROIT SPINNERS ARE HERE !!
WE NOW HAVE SPINNING RIMS FOR MOTORCYCLES..... I have prototyped the first motorcycle aftermarket spinning rim addon for SPORTBIKES & Harleys. We currently have Spinners for Suzuki GSXR / Hayabusa & Katana , Yamaha R1 / R6, .We have these Spinners for both front and rear wheels. These add-on Detroit Spinners attach directly to your stock rims. Contact me for pricing and availability.
E-Mail us: customparts@earthlink.net
RIM SPINNERS!!!
Click to visit WWW.DETROITREDCAT.COM

Affordable ATV's and Motorcycles for the whole family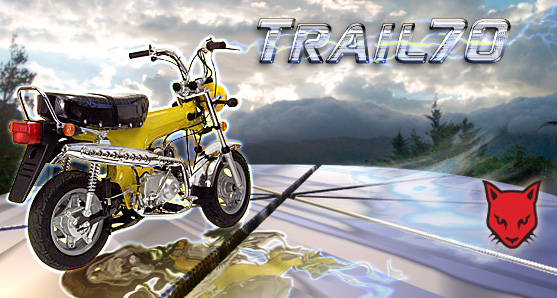 E-Mail us: customparts@earthlink.net